Welcome our newest member
The COVID-19 virus has discombobulated all of us. In the short run, please update friends and classmates on your status by posting an update on your profile or participating in the related forum. Recent updates echo below and more appear on the memberhip page. We are working on a better procedure. We urge you to stay home touring our website until the situation normalizes. Our best shot at informing alumni from a distance from the homeland is here; you can post comments to add testing locations or anecdotes about local conditions at the bottom of the article. In the meantime, Stay home, stay safe!
Updates from Members
Rees Clark
1960
03/20/2020 5:42 PM
Several members have asked whether they can write longer articles than are...

Wendy McKenna
1973
03/20/2020 1:07 PM
Hi everyone! I saw that Rees requested on FB that people sign in and give a...

Gregg Peterson
1970
03/20/2020 7:31 AM
Was working in the US Census office, but we are on break eith the corona virus, ...

Ray Watters
1962
03/20/2020 4:22 AM
Enjoying our time in Florida and staying safe during the covid 19 event. ...

Dennis Gregory Glynn
1964
03/19/2020 11:34 AM
Living in Boise,Id(summer) CasaGrande,AZ(winter)Loving retirement,10 years now....
News Headlines
Los Angeles, CA (Thursday, April 2, 2020) — LA County is ramping up COVID-19
... Continues...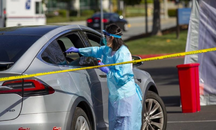 More Member Comments
Members may comment on descriptive information, blog posts, and many other types of content.
New Members
Dennis Gregory Glynn
(1964)
Derrick Chie-Yiao Tan
(1990)
Barbara (Hassett) Graham
(1960)
Recent Visitors
The following members have recently signed in...Debbi Kohnle 1981, 05 Apr; Rees Clark 1960, 05 Apr; , 04 Apr; Peter Willetts 1970, 29 Mar; Gregg Peterson 1970, 20 Mar; Wendy McKenna 1973, 20 Mar; Ray Watters 1962, 20 Mar; Bob Morton 1964, 19 Mar; Kathy Archer Keithley 1978, 18 Mar; Michael Coghlan 1957, 12 Mar.
We need your help to build a comprehensive list of former students. Type the names from your yearbook and send to us.
Publish class news directly to our blog; maintain your class list. Add photos to class album. Edit obituary file. Click above to inquire/apply.
Support Alumni News by selling ads to TC & SGV businesses. Ordinary commercial and "booster" ads wanted. Click for details.
FROM OUR WEB HOST: Your school or organization can have a full-featured site like this in one day, and inexpensively.
INFO